George Vernon Russell, FAIA, 1905-1989
"Architect to the Stars"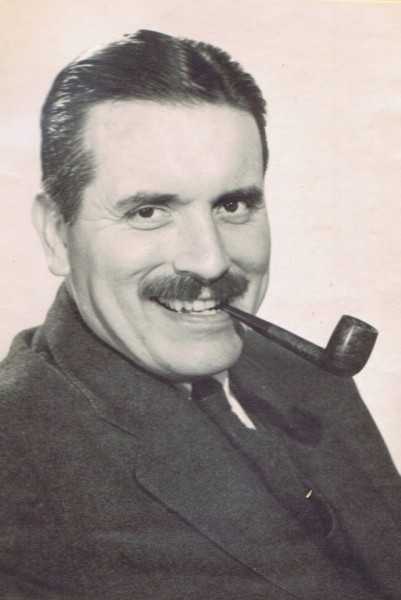 My dad was a complex man:  charismatic, cantankerous, kind, compassionate, demanding, egotistical, difficult, narcissistic, passionate about architecture, and loaded with talent.  He was also eager to teach me all he knew, and I learned a great deal from him about both the art and business of our chosen profession.  I also experienced the inevitable frictions that develop between fathers and sons working together.  After ten years at his Los Angeles office (having arrived there straight out of college) I decided that it was time to follow my own course, and moved to San Francisco for a fresh start.  Though I've never looked back, my admiration for what he accomplished in his very full and productive career continues to grow.
The first in his family to graduate from college, he began as draftsman/designer at York and Sawyer, a 300 person A&E firm in New York City.  The firm had dwindled to less than 10 on the eve of the Stock Market Crash of '29, so he left for Mexico with a buddy to ride out the Depression, figuring it would be over in 6 months.  2 years later, having traveled by bus and burro throughout Central America, he returned penniless to his native California and began looking for work.  Fast forward to 1935, by which time he had established a thriving practice with a partner, Douglas Honnold, who had important connections with the rich and powerful in Hollywood.  From that time until he joined the war effort, (building air bases in Northern Ireland for Lockheed Aircraft,) he had cemented his place as the "Architect to the Stars," designing lavish homes for the likes of Samuel Goldwyn, Charles Boyer, Maureen O'hara, and others.  He developed a deep friendship (and lasting business relationship) with Billy Wilkerson, founder of the Hollywood Reporter and serial entrepreneur, who had turned his talents to the restaurant business.  In the space of 5 years, Billy had established some of the most famous and successful restaurant/nightclubs in the world:  Ciro's, Cafe Trocadero, La Rue, and Vendome.  George was the architect for them all.  Hollywood glitterati came in droves, spent lavishly, and made Billy a very wealthy man.  During this period my father began to develop the modernist style that would become his signature in the post war years and garner him national recognition.
Cafe Trocadero
Wilkerson Residence